List of Ten Best Fully Automatic Washing Machines in India
Those of you who are always in a hurry and time is of paucity, then fully-automatic washing machines are for you. It comes with predefined functions and washes and dries the clothes effortlessly. In these types of washing machines, all you need to do is to put in your clothes and select the wash-type. Once the options have been set, it automatically washes, rinses and dries the clothes for you. We have listed 10 best fully automatic washing machine in India below. Unlike semi-automatic, fully-automatic washing machines come in two types – top loading and front loading. The top-loading washing machines consist of a single drum that washes and dries the clothes for you. The front-loading machines have a front-loading chassis.
There are agitators and impellers in both the models, however, the front-loading ones are preferred over top-loading ones. The best washing machine type is surely the front-loading fully-automatic ones, without an err of doubt. They usually have a large capacity drum which is of high volume that can fit many clothes up to 10 sheets. Hence, if you are into thorough cleaning and want to keep your clothes fresh for long, go for fully-automatic. They might be expensive, but they have a longer life and the maintenance cost is also very nominal. Go for the fully-automatic washing machine if you do not want to indulge in the hassles of washing clothes.
Although fully-automatic might be the best washing machine in India, but it does require a permanent place in your household. The water supply should also be constant, but it does not waste much water. It first measures the weight of the clothes and then uses water and detergent as per requirement. Washing Machine Wise promises to help you make smart decisions in buying the perfect washing machine for yourself. We have an entire list of washing machines models to showcase and you can find the best washing machine for your needs over here.
Fully Automatic Top Load Washing Machine Reviews
LG  T7581NDDLG.ASFPEIL Review
If you're in search of an affordable washing machine with a large capacity for clothes, you can stop here, because this product from LG might be what you're looking for. The LG 6.5 kg Inverter Fully-Automatic Top Loading Washing is truly amazing in many aspects. It has a good number of features that make it eligible for your home. This machine costs Rs18,500 in India and is one of the best at its price.
Special features:
6.5 Kg of load capacity
Fully automatic control
Top loading washing machine
700 maximum rpm motor
Punch + 3 Pulsator washing method
Digital display
220W power consumption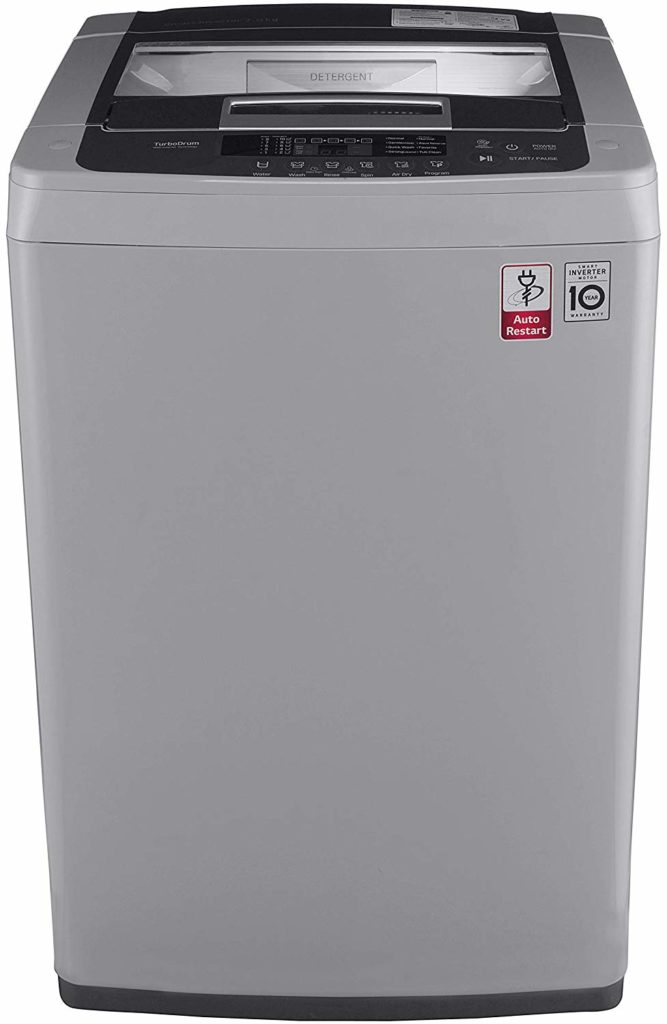 The LG T7281NDDLG Inverter Washing Machine efficiently controls energy use by adjusting the energy consumption in accordance with the required power. Its smart motion technology plus Turbodrum and Precise, Smart inverter control significantly improves washing and performance. The fact that this machine is fully automatic makes it ergonomically friendly with excellent wash quality. Its spin speed of 700 rpm is on the high side, which makes the drying time low. The large capacity of this machine at 6.5kg makes it an ideal choice for a home of 3.
---
Whirlpool Stainwash Ultra 8.0 Review
This washing machine from Whirlpool is one of the best picks for a fully automatic washing machine under 20,000 INR. Just to make you aware if you're not doing your laundry right then there will always be a pile next to your washing machine every week. The main aim behind these fully automatic washing machines is to make the process very smooth. The Whirlpool Stainwash Washing machine truly takes the blue out of laundry days and makes them much easier. It comes with amazing features like the 3D Scrub Technology. This removes the toughest stains and improves wash quality. The Whirlpool 8kg Fully-Automatic Top Loading Washing Machine (Stainwash Ultra 8.0) really has it all that you ever going to need from a washing machine. It meets every basic washing need and more. It can be gotten for Rs 20,000 in India. Its price is just right for the number of features it possesses.
Special features:
Fully automatic
8 Kg of loading capacity
Top loading
740 maximum rpm motor
6th Sense Ultraclean Wash method
12 wash modes
Inbuilt heater
3D Scrub Technology
Spin dry
Rat mesh for rodent control
Child lock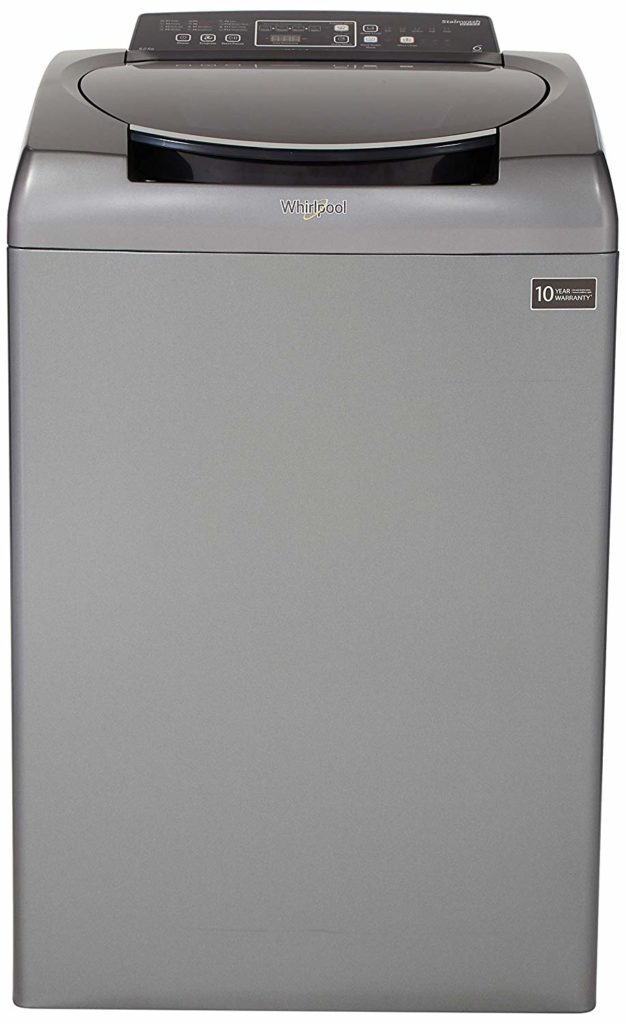 The Whirlpool Stainwash Washing Machine, with its innovative technologies, makes sure you get to show off clean and spotless garments every day. The combination of its 6th Sense Ultraclean Technology, 3D Scrub Technology, and In-built Heater makes it possible to remove up to 25 tough stains and eliminate 99.9% bacteria easily. You can surely get the ultimate washing performance as it analyzes data and controls water temperature for different types of fabric. It comes with 12 different in-built wash modes. This allows for a perfect wash for all kinds of clothes. It's a very large capacity of 8kg makes it perfect for a household of 5. This washing machine is definitely one to consider!
---
Haier  HWM58-020S Review
When you talk of efficiency, durability, and affordability, you describe the Haier 5.8kg Fully-Automatic Top Loading Washing Machine. This Haier washing machine has a good capacity of 5.8kg and is packed with great features. At its price of Rs 11,000 in India, the Haier 5.8kg HWM58 Washing Machine is just perfect for singles and couples. 
Special features:
Fully automatic
Top loading
5.8kg loading capacity
1000rpm maximum spin speed
Pulsator wash method
Six wash modes
Child lock
Door lock
Digital display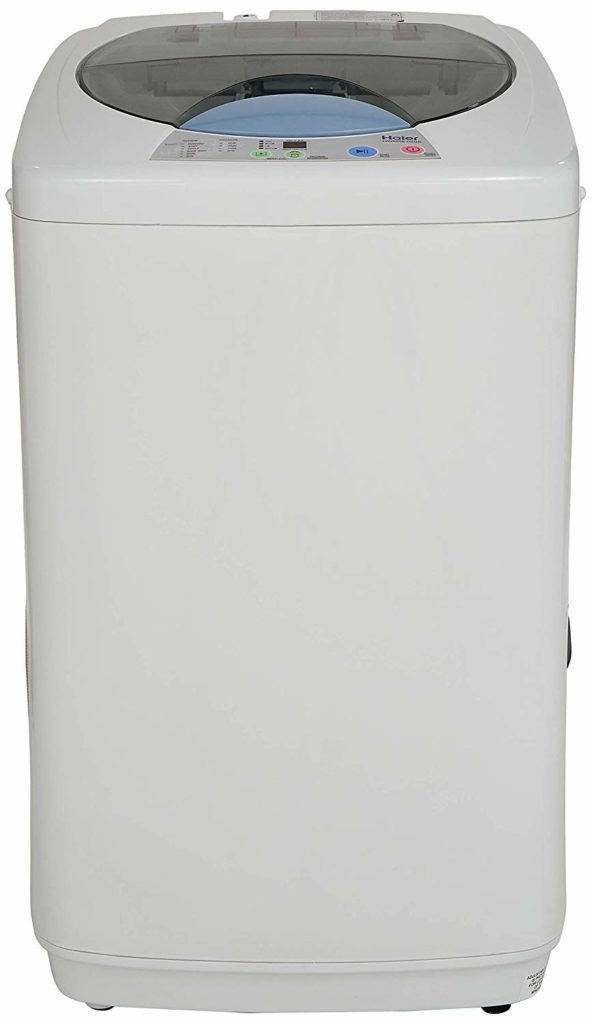 This Haier washer is enough to ensure quick and thorough cleaning and drying of your clothes. It comes with six different in-built wash programs, which makes it enough to suit your washing requirements. Its quick wash feature allows you to wash your clothes very quickly and easily. The maximum spin speed of this washing machine is 1000 rpm. This leads to lesser drying time. Its digital display keeps you informed about the various wash stages and cycle time. The Haier 5.8kg fully automated washing machine operates with the Fuzzy Logic. The Fuzzy Logic is an interesting feature that measures the degree of dirtiness of clothes and calculates the amount of soap and water needed for thorough cleaning. Don't ruin your weekends by doing laundry, let this washing machine give you the cleaner and fresher clothes you need!
---
IFB TL-RDW Review – Amazon Choice Product
IFB is a well-known brand when it comes to appliances (especially ACs and washing-machines) and its products are durable and feature-packed. The IFB TL-RDW 6.5kg is no exception and does justice to the brand's name. It is well-suited for a small family (3-4 members) and is designed to fit around small corners in the household. But wait, don't let the size confuse you because the TL-RDW is a feature-laden, powerful beast. Priced at around ₹16,499, this inexpensive offering from IFB is a really popular washing machine. In fact, it is one of the highest-rated washing machines that you will come across on Amazon.
 Special features:
Fully Automatic
Top Loading
5kg loading capacity
720RPM motor
Deep Clean mode
Crescent Moon Drum
Aqua Spa Therapy
Triadic Pulsator Wash
Auto-balance system
3D Wash system
IFB Smart Sense technology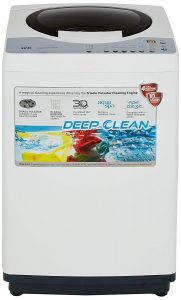 The features that have been instilled in this washing machine can easily woo anybody away. It contains a 720RPM motor that ensures a thorough wash and a faster drying time. This motor powers the Crescent Moon Drum that creates a cushion effect to prevent damage to your clothes. You get the iconic Deep Clean mode that ensures all kinds of stains are removed without harming the fabric. It even has an Aqua Spa Therapy mode that carefully rejuvenates the fabric for a deep wash to make it look fresh and exfoliated. The IFB TL-RDW is a really nice top-loading fully-automatic washing machine is definitely a great choice for smart users out there. Check it out using the link provided.
---
Samsung WA65M4100HV/TL Review
When it comes to performance and durability, the Samsung 6.5kg Fully-Automatic Top Loading Washing Machine (WA65M4100HV/TL) is definitely one of the best. It has the perfect blend of properties to provide the best quality performance, along with durability. This Samsung machine, with its 6.5kg capacity, is suited for families of 3 members. It comes at the cost of Rs15,000, with lots of powerful features that make it very easy to meet all your washing requirements.
Special features:
Fully automatic
Top loading
5kg loading capacity
700rpm maximum rotational speed
Center Jet Pulsator Wash
Diamond Drum Technology
Eco Tub Clean
Magic Filter
Air Turbo
LED display
Tempered glass door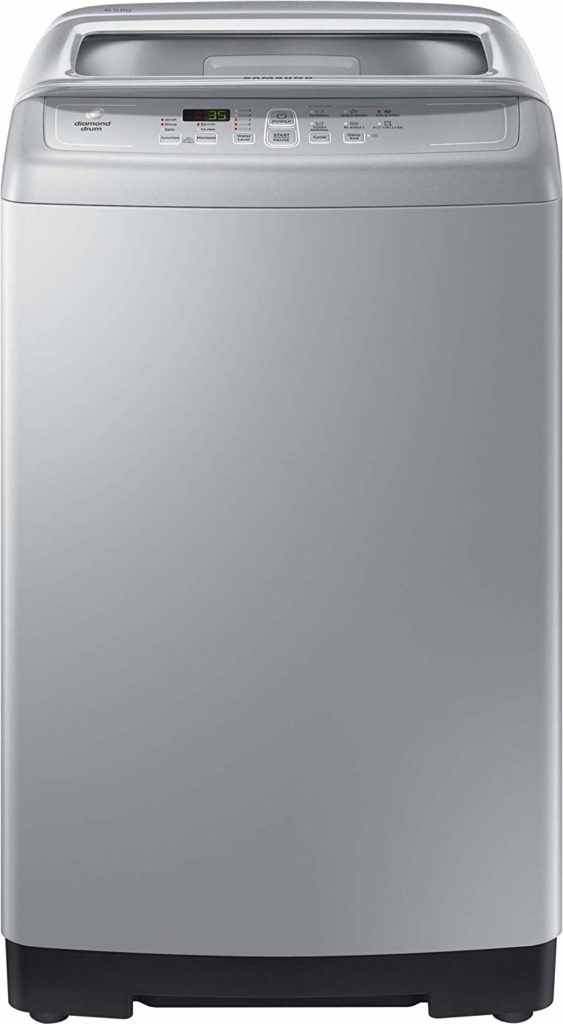 A combination of powerful features such as the Diamond Drum, Eco Tub Clean, Air Turbo, and Magic Filter makes the Samsung 6.5kg WA65M4100HV/TL top-notch, with the ability to easily remove tough stains. The Diamond Drum prevents fabric damage during the wash. The Air Turbo drying system works to dry clothes very quickly, thereby saving time. The Eco Tub Clean feature is designed to keep your top load washer fresh and without the need for harsh chemicals. The Magic Filter plays a crucial role in each wash cycle by preventing clogged drainage by effectively gathering the lint and particles that come out of your clothes. This also allows for even cleaner clothes. This Samsung machine offers a lot for its price and is a great choice for your home.
---
Front Load Washing Machine Reviews
Bosch WAB16161IN Review
The Bosch WAB161611N can simply be described as one of the best washing machine options for small homes. It is the perfect choice for individuals or couples. This machine comes with a solution for all your dirty clothes. It costs about Rs22,000 in India. The number of features it possesses makes it just perfect for its price.
Special Features: 
6Kg load capacity
Fully automatic control
Front loading washing machine
800 maximum rpm motor
Tumble Wash washing method
Digital display with drying process indicator
Inbuilt heater
SpeedPerfect feature
Active Water Technology and AllergyPlus
Child lock
Tub self-clean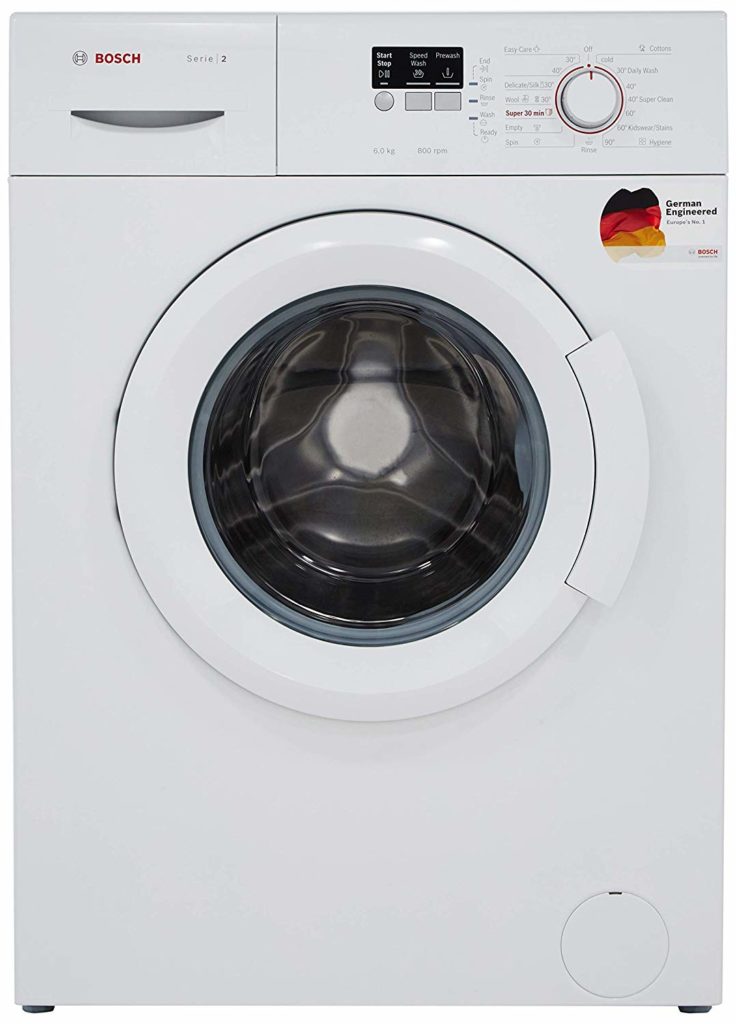 One important feature that makes this washing machine super-efficient is its Speedperfect feature. Speedperfect reduces laundry time by up to 65% making laundry quicker. The Bosch WAB161611N makes laundry very quick while still producing excellently clean clothes. Active Water Technology enables it to effectively manage water by automatically detecting the amount of water required to wash clothes. This allows the machine to use only the amount of water needed, thereby avoiding water wastage. Another feature that makes The Bosch WAB161611N Fully-automatic Front Loading Washing Machine an ideal choice is its ability to remove allergens, thereby helping those with sensitive skin. This is made possible by its AllergyPlus feature. Tub self-clean is available for convenience and helps in prolonging the life of the machine by keeping it clean always. If you're living alone or with a partner and are in search of the perfect washing machine for your small home, you may as well just stop here.
---
Haier HW70-B12636NZP Review
Haier is known to produce top-notch appliances. Its no wonder The Haier HW70-B12636NZP Fully-automatic Front Loading Washing Machine is so awesome! It is a perfect blend of efficiency and durability. Perfect for a family of three, this washing machine is capable of meeting all your laundry needs. This price of this product is Rs28000 in India. Considering its combination of features, it is worth every penny.
Special features:
7Kg load capacity
Fully automatic control
Front loading washing machine
1200 maximum rpm motor
Tumble Wash washing method
Inverter motor technology
16 wash modes
Muscular drum
Hot wash and Pre-wash soak
Anti-bacterial technology
Digital display
Pre-set timer
Wrinkle prevention
Child lock
Tub self-clean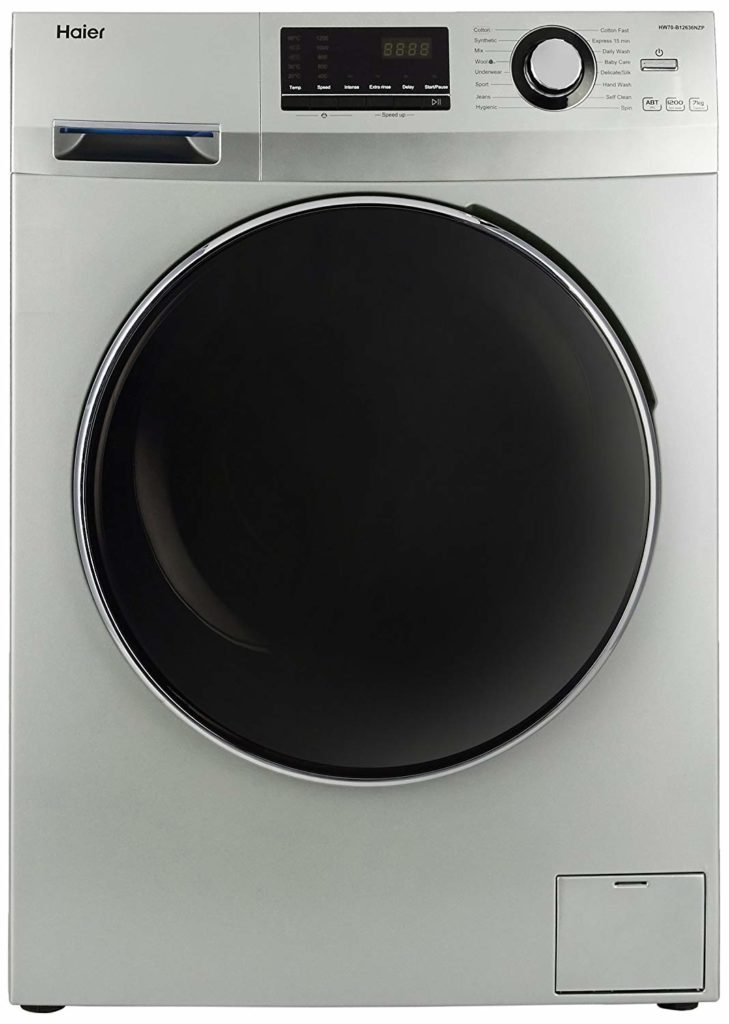 In addition to its sleek design, the Haier HW70-B12636NZP comes with great qualities that truly takes away the hassle from doing laundry. Its high rotational speed of 1200rpm results in less wash time. This washing machine comes with 16 different wash modes for all kinds of fabric. It also possesses an Anti-Bacterial technology which eliminates 99% of germs, thereby providing you with safe washing. The washing drum of this Haier machine comes with 128 muscles which ensure thorough scrubbing of fabrics with less abrasion on clothes. This machine also prevents wrinkling of clothes. Washing convenience is made possible with the availability of tub self-clean, pre-set timer, child lock and digital display. Most importantly, enjoy all these features in silence! Yes, this machine is absolutely noiseless. This is made possible by the presence of inverter technology. What are you waiting for? Get the superb Haier HW70-B12636NZP washing machine that truly cares for your fabrics.
---
IFB Elite WX Review
Make your laundry as easy as possible with the IFB Elite WX Fully Automatic Front Loading Washing Machine! Take your mind off the possibility of your fabric getting damaged, as the IFB Elite WX was purely designed to maintain your fabrics while giving your clothes the super clean wash they need. Its load capacity of 7.5kg makes it great for a family of three. It can be bought at Rs32000 in India and is worth the price.
Special features:
7.5Kg load capacity
Fully automatic control
Front loading washing machine
1200 maximum rpm motor
Tumble Wash washing method
14 wash modes
Cradle wash, Express wash, Air bubble wash, Eco wash and 3D wash systems
Anti-allergen
Crescent moon drum
Aqua Energie
Time delay
Auto imbalance system
Foam control system
Digital display
Child lock
Inbuilt heater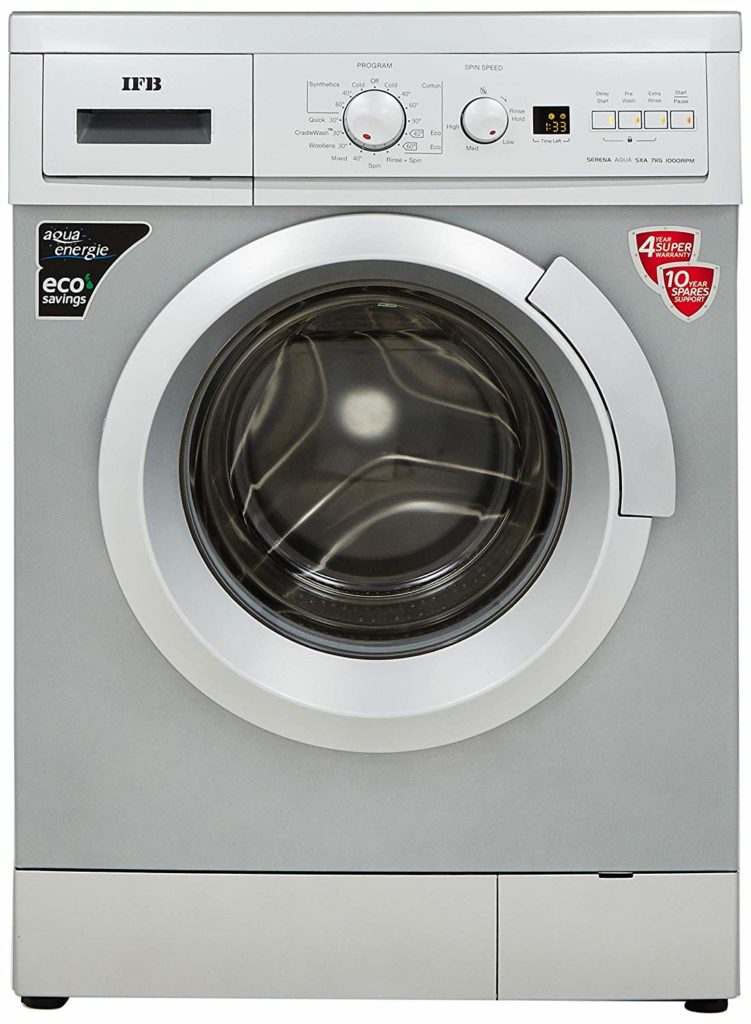 The IFB Elite WX Fully Automatic Front Loader was truly manufactured with the care of your fabrics in mind. It has an excellent combination of features to ensure yours clothing fabrics are absolutely preserved even through repeated washing. A lot of qualities are put together to make sure laundry is as easy and convenient as possible with this IFB washing machine. A particular feature; the Aqua Energie, energizes water thereby allowing for the easy dissolving of detergent. This results in softer clothes after wash. The IFB Elite WX washing machine comes with 14 different wash modes and other wash systems to ensure the best of your fabrics after a thorough wash. This IFB washing machine is definitely one to consider getting.
---
Samsung WW70J4243MW/TL Review
Samsung has been in the washing machine business from quite a while. They have mastered the art of creating washing machines and consumers love them. Same goes for the Samsung (WW70J4243MW/TL) 7kg Fully-Automatic front-loading washing machine. It is smart, powerful and a really popular washing machine under the ₹40,000 price bracket. This appliance is suitable for a family of 3-4 people and washes clothes carefully and smoothly. The energy consumption of this model is very less and hence it is a lot of energy-efficient as well. From Samsung exclusives like – bubble soak, bubble wash and easy iron modes, this one is packed with amazing features.
Special features:
7kg Load Capacity
Fully Automatic Control
Front Loading Design
Cool Wash – Saves Energy
Intensive Stain Removal
Highly Durable and Elegant Design
One-touch Troubleshoot
 Chemical-free Drum Sanitization
High RPM Design for a quick wash
Fabric Care
Over 20 Washing Modes
Waterproof Panel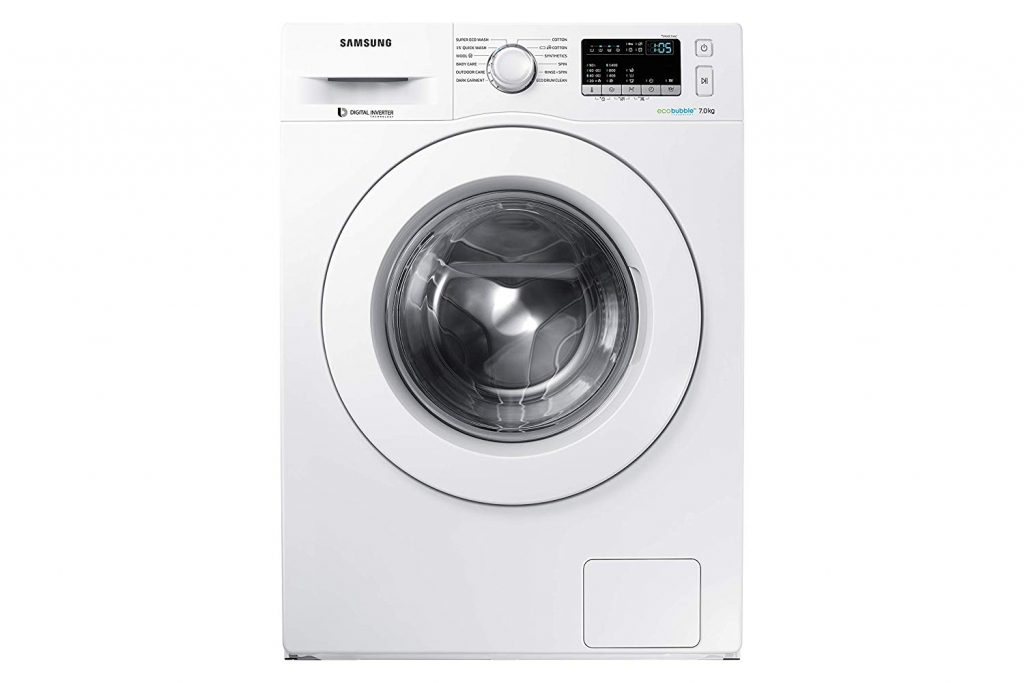 The Eco Bubble Technology ensures a cool wash that easily activates the detergent. This provides a deep wash without harming the fabric (water temperature around 15°C). Apart from that – this washing machine is highly durable and very powerful when it comes to washing clothes. It even has an elegant design with soft edges to make it fit easily in most of the places. A lot of effort has been put into its design and shape. Samsung has used resin that makes it look appealing to the eye. You get gentle fabric care with Samsung's Diamond Drum that comes with 'soft-curl' in order to provide soft-wash. Find out more about by clicking on the link provided.
---
LG  FHT1207SWS STS-VCM Review
Here is another LG product that definitely cannot be overlooked when talking about the best washing machines in the market! For its price of about Rs39000 in India, I say it's very much worth it. The LG Inverter Wi-Fi Front Loader indeed has everything you need in a washing machine and more. It is suitable for a family of three and comes with lots of exciting features.
Special features:
7Kg load capacity
Fully automatic control
Front loading washing machine
1200 maximum rpm motor
Smart ThinQ WiFi
6 Motion Direct Drive Wash Technology
TurboWash Technology
TrueSteam Technology
95℃ maximum temperature
Inverter Technology
21 Wash Modes
Smart Diagnosis System
Waterproof Touch Panel
Child lock
Tub self-clean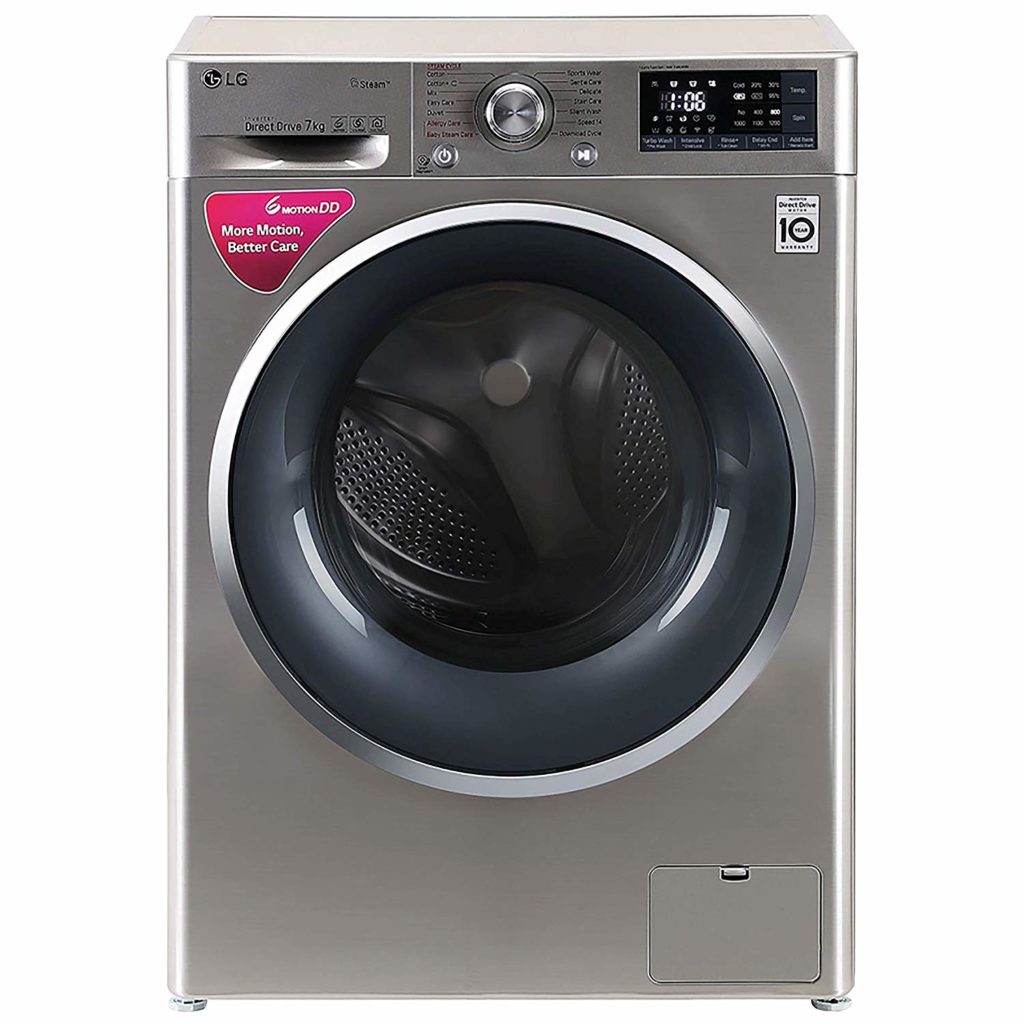 In addition to the very stylish exterior of the LG FHT1207SWS Inverter Wi-Fi Washing Machine, its combination of cool features brings washing to a whole new stylish level. Do your laundry from the comfort of anywhere within your home with the Smart ThinQ WiFi. It allows you to control your LG washing machine and access different wash modes while relaxing, it also comes with Smart Diagnosis on the SmartThinQ Phone App in case an issue with your machine arises. Its 6 Motion Direct Drive and TurboWash Technology bring out the best in terms of wash speed and cleaning effect. Its in-built heater in combination with its TrueSteam Technology eliminates 99.9% of germs and allergens. The LG FHT1207SWS Inverter Washing Machine is also noiseless. Get any type of clothing clean with the availability of 21 different wash modes. The child lock and tub self-clean features enhance convenience even more. This LG washing machine makes laundry as easy as ever!
---
Let us know in the comments, what do you think of our curated list of best fully automatic washing machines. If you also want to read our semi-automatic washing machine reviews then you can visit here.