Semi-Automatic Washing Machines in India
The most affordable type of washing machine you can get is the semi-automatic. This type is especially popular among bachelors and those who don't want to spend a fortune. You only get top-loading variant in this category. There is no front-loading semi automatic washing machine available in the market. Here we have covered 6 top-selling semi-automatic washing machines in India. So, you can pick one based on your need and preference in terms of brand.
One of the advantages of using a Semi-Automatic washing machine is that it doesn't need a 24/7 water supply. The second biggest advantage is that these are cheaper than fully-automatic washing machines. These machines have a primary tub for washing and secondary tub for rinsing or drying. So, what's with the name? Well, you have to manually put your clothes in the dryer and this is how semi-automatic gets its name.
There are dozens of models available in the market that falls under this category. Some people say that IFB is the kings, while some claim that LG makes the best washing machines in India. However, this debate is not that simple. But do not worry, because we, at Washing Machine Wise, are here to guide you throughout your buying process. A number of people ask – what is the best washing machine in India? Let's say that whatever does your task of washing clothes perfectly is the best one. In the case of semi-automatic machines, you save a lot of water.
Those of you who care for the environment and know that climate change is real should go for this category. Semi-Automatic washing machines have a long life as well. These washing machines are light and easily moveable. Thus, if you are a student, bachelor or have a small family, this type of washing machine is perfect for you. On Washing Machine Wise, you will find some of the best washing machines in India as per your budget and choice. We promise to provide you with the best possible options to make your buying process easy. Happy shopping!
---
List of the 6 Best Selling Semi Automatic Washing Machines in India
LG P7559R3FA Review
Special features
6.5 Kg of wash capacity
3 wash programs: Gentle, Normal, Strong
Top loading washing machine
Semi-automatic machine
Rat away technology
Wind jet dry
Roller jet pulsator
15 minutes wash timer
Collar scrubber
Lint collector
LG's P7559R3FA model with 6.5 kg capacity provides you with 3 different wash programs. This ensures that you can set the machine to effectively wash any kind of fabric without wear or tear. There are three wash programs given Gentle, Normal or Strong.
This washing machine comes with a special design called 'Rat away technology'. This design has a 3mm covering of plastic. It has a repellent chemical which puts rats off this washing machine. You can be sure to have this machine stay for a long time in your laundry room with no troubling carcasses and animals. This set-up is a really helpful measure which makes this machine one of the best washing machines to be used in India.
Lint Collector is present in this model from LG. This collects the lint which comes out while the washing is going on thus saving you the trouble of delayed washes.
Another cool feature is Wind Jet Dry feature that let's air into the washing machine chamber, circulating inside to take off any forms of moisture. This ensures that the tub is dry and is free of mouldiness.
The Collar Scrubber is one of this machine's unique features that help to scrub your collars and cuffs. You can be sure of a stress-free wash while using this machine.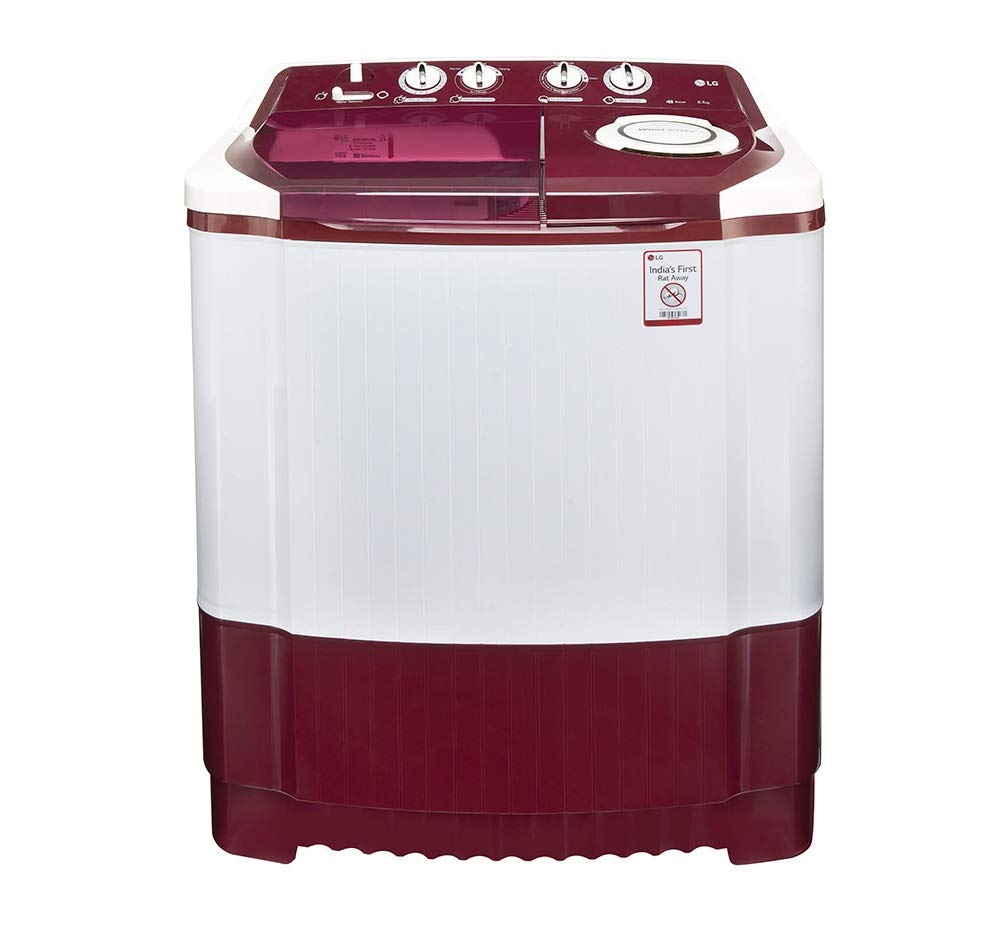 ---
Whirlpool ACE TURBO DRY 8.0 Review
Speaking of high tech end washing machines having the capacity to serve full families and still have more. The best kind of washing machines in India requiring you to make decent purchases costing you less than Rs15,000. You need not look any further as the Whirlpool 8 kg Semi-Automatic Top Loading Washing Machine (ACE TURBO DRY 8.0, Coral Red, 2X Drying Power) has all your needs covered.
Special features
Has an Ace Wash station
Semi-automatic top load washing machine
Has 3 wash programs
8 Kg wash capacity
Uses TurboDry technology
Can be used to soak clothes before washing
1450 rotations per minute
Has lint filter
Has child lock
Whirlpool drew this one up a notch with the extensive features programmed into this wonderful washing machine. It has so much to offer a full family.
If you are looking for the best top load semi-automatic washing machines in India, then you could give this stunner from Whirlpool a try. With so many features to appreciate in this affordable home help.
The work station enables you to sort your clothes so you can easily carry them around.
With a motor of 340 W, this machine spins at 1450 rpm giving you quick and good washes.
TurboDry technology is another really helpful feature that makes your clothes ready for the line. The motor saps in lots of dry air and lets out air thought the air spaces to make your thick clothes ready for the sun outside. This measure ensures that your clothes will get dry quicker than you would ever imagine.
Another really awesome feature is the 3 wash programs available with this machine. You can use it to wash any kind of cloth regardless of the texture. With varying intensities of wash, you can be sure of an easy wash for your clothes without fear of wear and tear.
You can also use this washing machine to soak your clothes before letting them take up the more intense washing of the tubs. This makes the washing program less stressful and more effective. This might require some more wash minutes.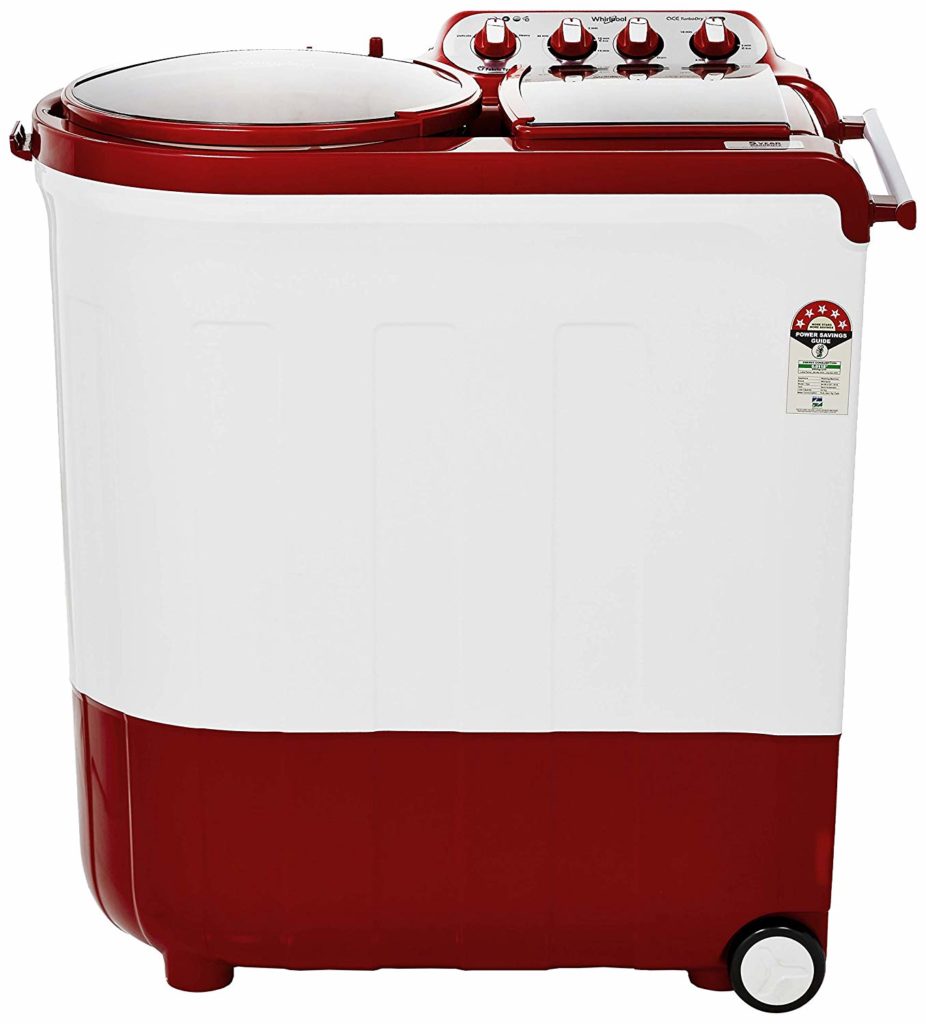 ---
Whirlpool ACE XL 9.5 Review
If you are looking for a quality washing machine with the best reputation in-house and out, then you might have seen it here. The Whirlpool 9.5 kg Semi-Automatic Top Loading Washing Machine (ACE XL 9.5, Royal Purple, 3D Scrub Technology) is one that does not bear its name for anything. This product is an award-winning model featuring the best features expected of any washing machine. It is one of the best washing machines costing Rs15,000 in India.
Special features
5 Kg load capacity
Semi-automatic control
Top loading washing machine
1400 rpm motor
3D wash system
Hard water management system
5 wash programs
3D lint filter
This washing machine offers the best experience in washing loads of dirty clothing. Whatever your laundry concerns, this award-winning washing machine has got you covered.
The Whirlpool 9.5 kg Semi-Automatic Top Loading Washing Machine has a unique hard water washing program which can use even hard water to carry out effective washes. The 3D scrub defies the odds of any ions in the wash.
It is very effective even with the toughest of stains. This washing machine is capable of removing 10 notable stains that are quite difficult to remove using other laundry machines. The Whirlpool 9.5 kg Semi-Automatic Top Loading Washing Machine has special technology to ensure that even the toughest stains are scrubbed off. This is done with the help of the 3D scrub technology.
This award-winning semi-automatic washing machine has 5 washing programs to its credit covering a lot of categories. Your clothes, whatever their texture have something available to wash them.
This washing machine is waterproof. This means that water spillage on it causes little to no effect. You can do as you wish with it regardless of spills. You can be sure that the electronic component is out of the reach of sporadic waters.
The 3D lint filter of this machine is awesome. It ensures that lint is effectively packed off the tub and drainage. This guarantees you little troubles with letting water out of your machine.
Just to inform you, this washing machine won the iF design award for 2019.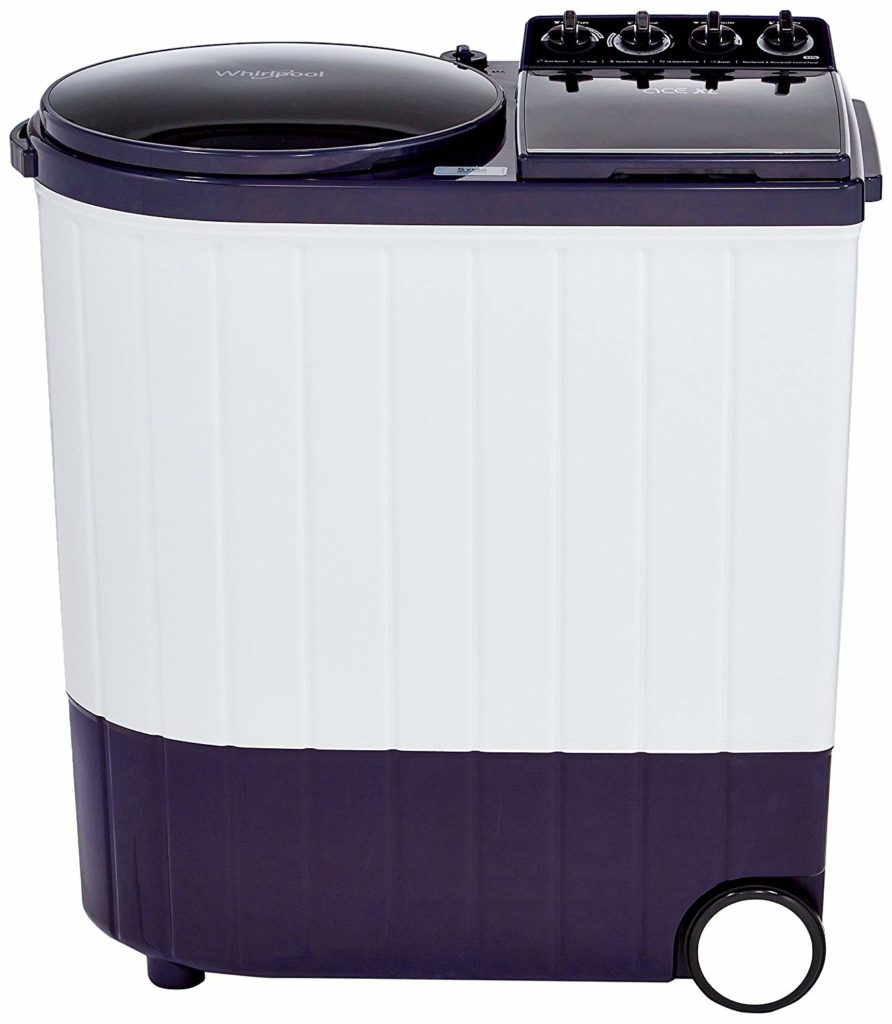 ---
Whirlpool SUPERB ATOM 7.0 Review
If you are looking for an affordable washing machine with a large capacity for clothes, then you need to look no farther as this product from Whirlpool might just be the answer to your prayers. This washing machine is one of the best washing machines you could find in the Rs10,000 budget range added with all the many features that make it very outstanding.
Special features
Semi-automatic top-loading washing machine
Waterproof panel
2 years warranty with special 5 years warranty on the motor
66L capacity washtub
7 kg
Auto-restart function powered by a memory
Has a scrub station
3 wash programs
Has super soak technology
340W motor
This unique washing machine is a top-loading semi-automatic model. Added to its basic make-up, this machine comes with lots of other features that make it a coveted plus to many a home.
It has a smart scrub station that you can use to manually do your scrubbing of hard clothes and cuffs. That's a real plus for your personal concerns in your washing process.
It also has an inbuilt memory. This means your machine resumes washing from its last position following a power outage. You need not have to wait out another 25 minutes for your washing to be complete. This is a good time saver.
You must be wondering how risky it could be to use this machine to do your manual scrubbing. What if there is an electric shock? That should not bother you at all. This washing machine is shock-free. The control panel is especially waterproof. This is a really safe measure for a multi-tray washing machine like this one.
You may have thought you have seen it all. Wait for it! This washing machine can contain 66L of water with your clothes. This ensures that it can contain lots of water, with clothes of course. How convenient.
This machine also has super soak technology. This soaks and scrubs your clothes for up to 25 minutes for the best washing experience.
The Whirlpool Semi-Automatic Top Loading Washing Machine also uses an impeller that gives it a very coordinated rotation and removes dirt completely.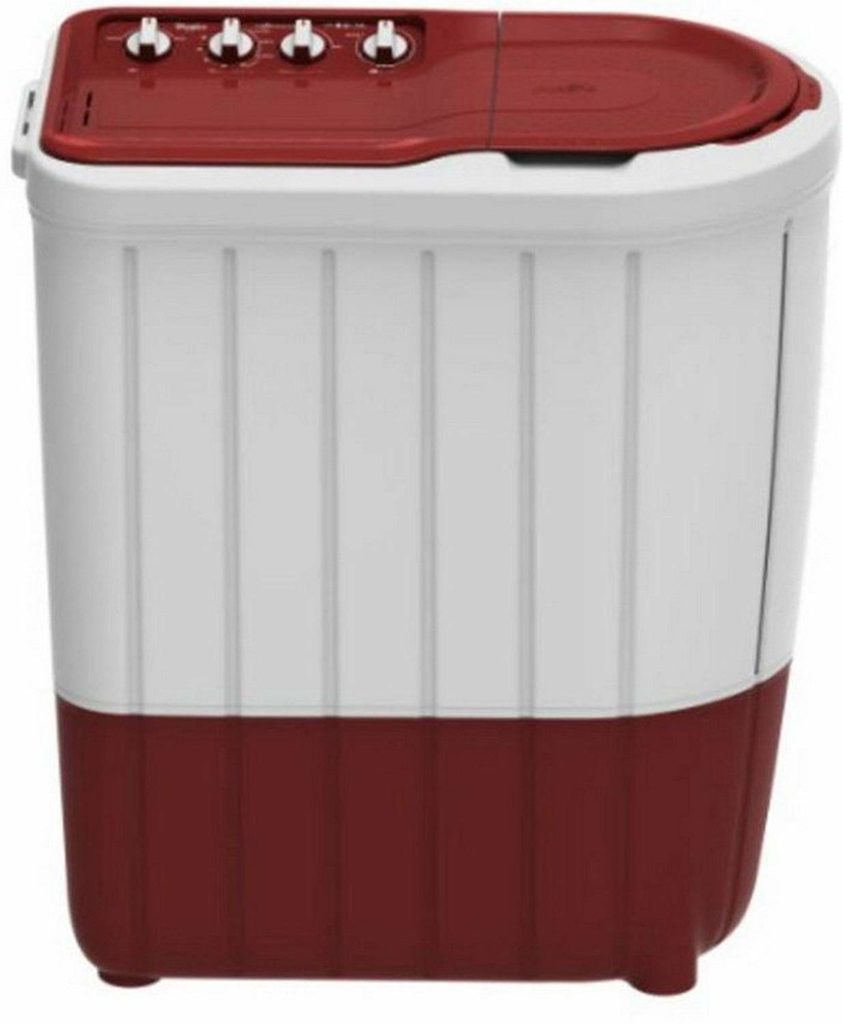 ---
Whirlpool SUPERB ATOM 70S GREY DAZZLE Review
You don't always find washing machines give you so many good features at very low costs. That's exactly what Whirlpool offers with this semi-automatic top loading washing machine. Little wonder, it is the best semi-automatic with a cost lower than Rs10,000 in India. If you haven't gotten one yet, no worries. You will be treated to a full review of this award-winning product and you will be surely informed on its capabilities.
Special features
Semi-automatic top load
1450 rpm
340 W motor
7 kg
3 wash programs
Scrub station
Auto-restart function powered by inbuilt memory
66L washtub
Has super soak function
Multi-utility tray
Waterproof control panel
This semi-automatic washing machine is super reliable with the many features it has coupled with a low cost. You can be sure of getting your laundry done quicker and easier. Stress-free.
The 340 W motor of this washing machine spins your clothes in every direction possible in order to make them really clean. This underlines the manufacturer's commitment to give you excellence for your little budget.
The Super Soak technology of this awesome machine ensures that within 25 minutes, your clothes are given the right amount of soaking and appropriate scrubbing to eliminate the toughest of stains.
This machine also has a tray that can be used for very many purposes. It has special openings to allow the drainage of water into the tub.
Surprisingly, this machine has a 66L capacity washtub. This implies that it can effectively serve a family of 4 conveniently. You don't always have a low costing product give you so many features like this.
This washing machine has a waterproof panel. This could mean that you are free to use your this washing machine for just anything without fear of any impending electric shock.
This award-winning model can be relied upon to do your laundry at the already planned schedule without having to wait for you to key in instructions at every point. This is made possible by the inbuilt memory which restarts laundry at the point the machine left-off after there is a power outage.
This machine also uses a very good impeller that clears the clothes of any kind of dirt.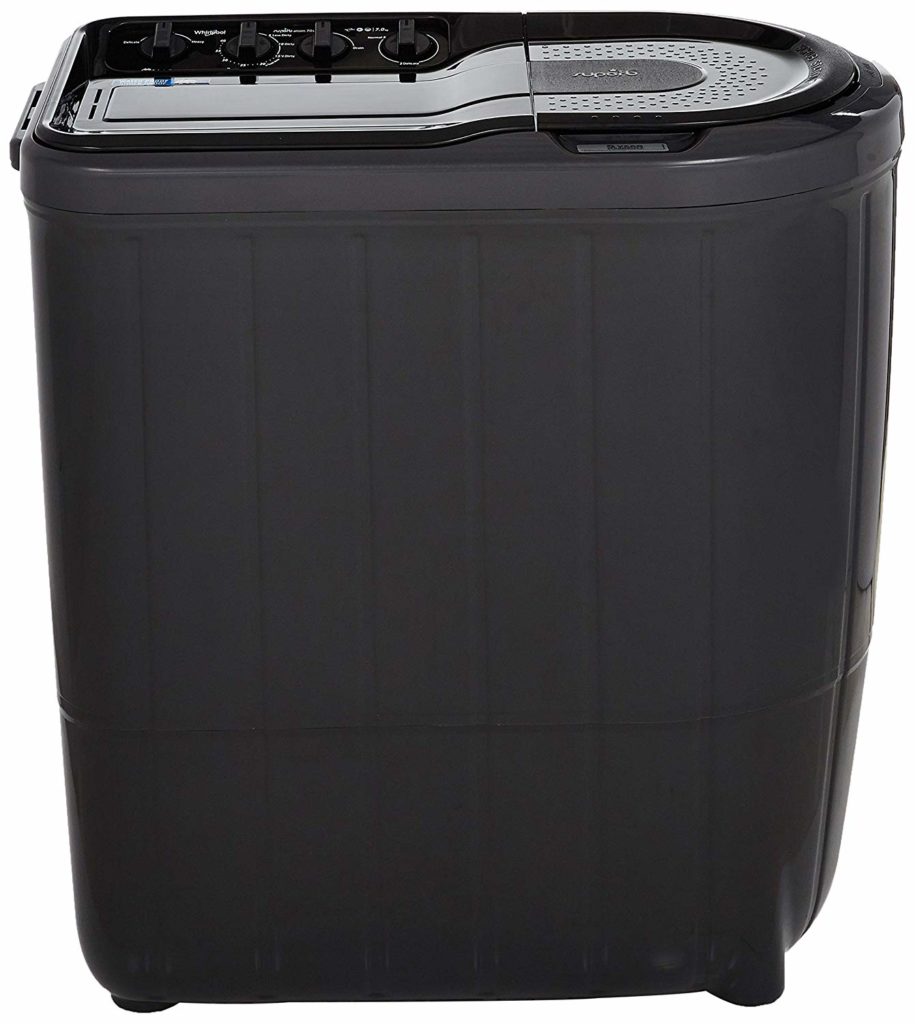 ---
LG P8035SPMZ Review
This could be the most exciting information you would be treated to in your search for a washing machine. You are currently reading about a semi-automatic top loading washing machine that has a five-star rating. Can you beat that? This machine is the second-best washing machine in India with a budget of Rs15, 000. That is both surprising and comforting. With just Rs15, 000, you can get all your laundry troubles sorted out.
Special Features
Semi-automatic top load washing machine
8 kg
5-star rating
1200 rpm
4 wash programs
Rat away technology
Air dry
2 years warranty
Roller jet pulsator
Auto-restart
Collar scrubber
Lint collector
Magic wheels
Speaking of semi-automatic top loading washing machines occupying the top hierarchy in quality and excellence of features, don't look farther. Here is your bet.
This washing machine from LG is a 5 star rated one offering you lots of features and yet within a Rs 15,000 budget. It has 360 degrees range Magic Wheels that can rotate your clothes in all directions with much friction to ensure a good wash.
It also has a 3mm-wide mesh plastic covering impregnated with chemicals to repel house rats and other possible intruders from reaching your clothes.
This machine did not win one of the best semi-automatic top loading washing machines in India for nothing. It offers you 3 washing programs plus one. Thus, taking care of your laundry needs. Whatever, the texture, your cleaning needs are covered.
As you would be expecting, there is a lint collector that clears your tub of every loose fabric. The lint collector clears the tub effectively to provide you clear drainage.
Are you wondering how you would wash your cuffs? This machine scrubs all your cuffs very well for you. This would save you the stress of having to do this yourself.
It also dries your tub and clothes by spinning very fast. Letting in air through the vents. This is quite convenient and facilitates the actual drying process. It also has the auto-restart process which continues your washing from where it stopped following a power outage.
Furthermore, the 2 years warranty on the product is good enough to know if the claims are true or not. You should check it out.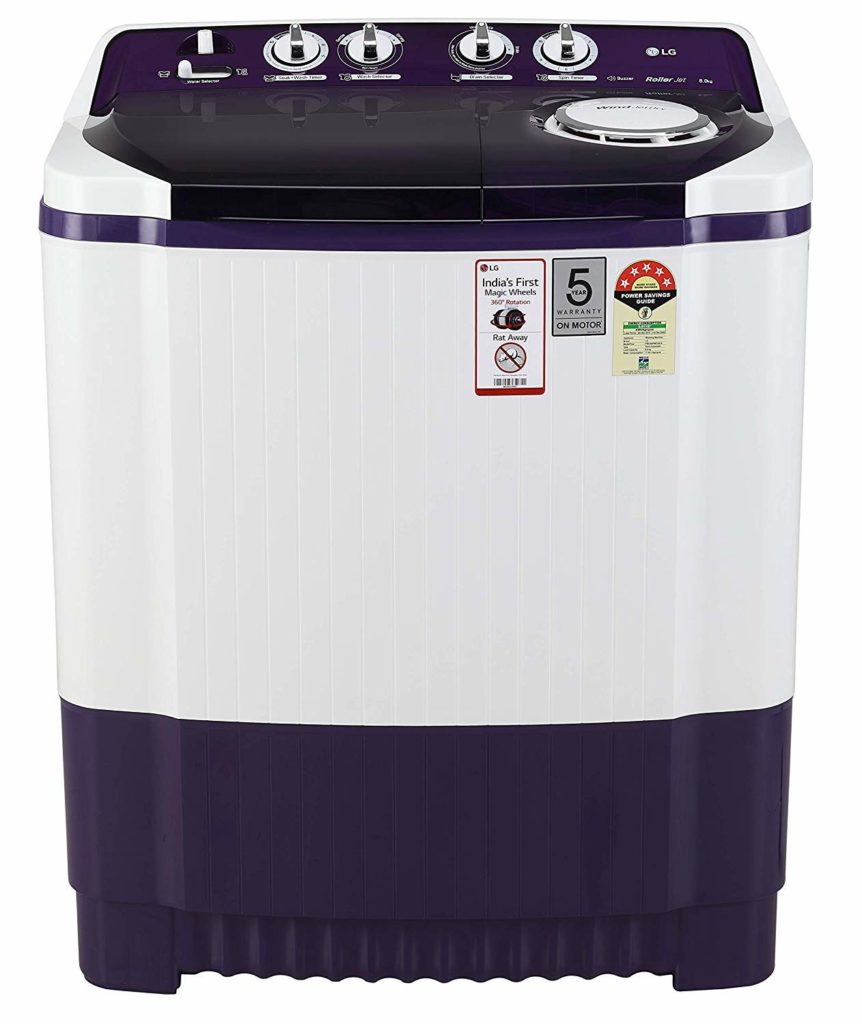 ---
So, these 6 are the Best Semi Automatic Washing Machine in India. You can read more by clicking on the link below to read about some of the best fully automatic washing machines in India.
Top 10 Fully Automatic Washing Machines in India